Southpac Legends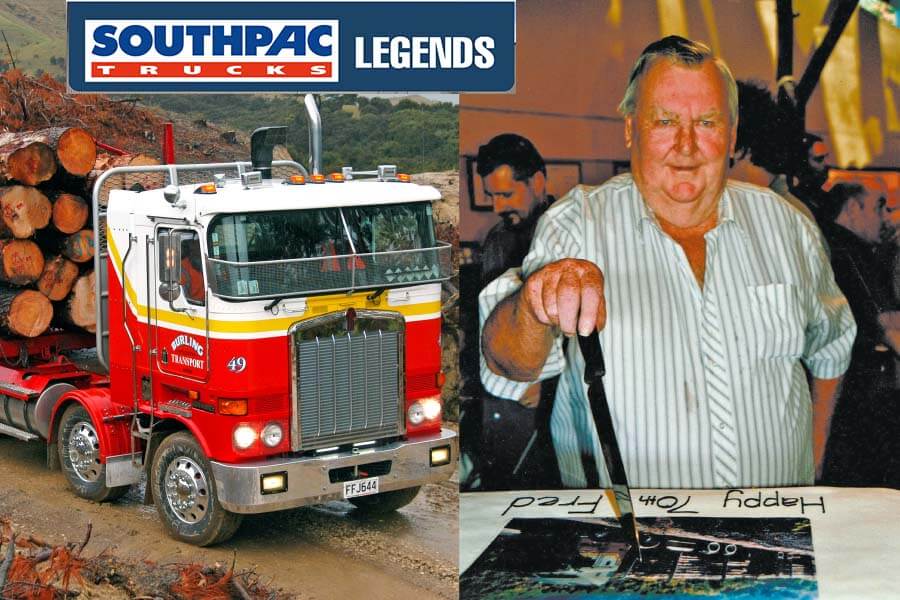 Farewell 'Fearless' Fred Burling
Legends - August 2021
Straight talking 'fearless' Fred Burling was not only a pioneer in the trucking industry but his work ethic was deemed 'salutable' by those that knew (or knew of) him. With a massive 60-year contribution to the freight and farming industry, not only from the Wairarapa area but throughout New Zealand, Fred really was a legend.
To say Frederick Allan Burling 'Fred' came from 'humble beginnings' is an understatement of epic proportions. Born in Hastings in 1940, his early life was fraught with difficulties, essentially a combination of hard times for the family and of course World War II resulted in Fred and his five siblings being placed into the Methodist Children's home orphanag... ...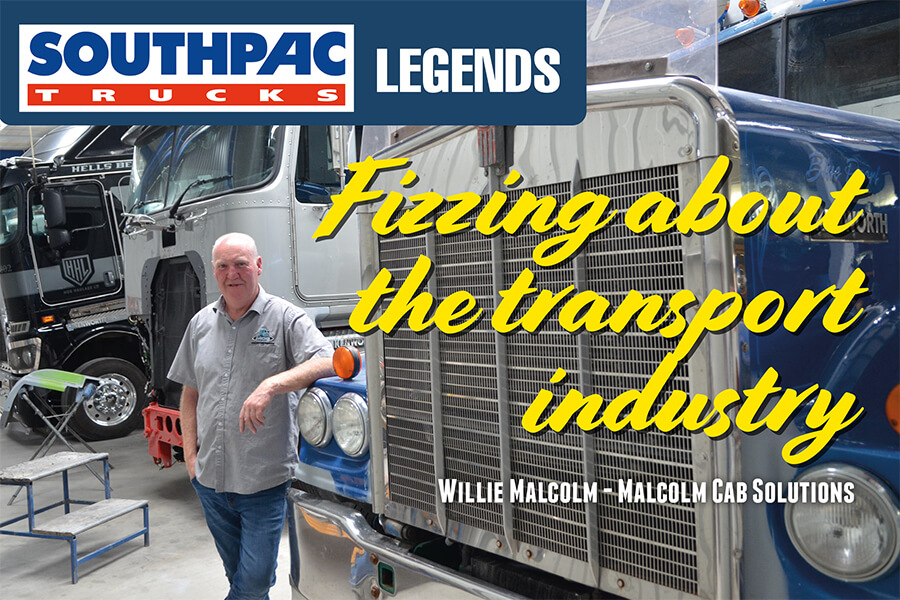 Fizzing about the transport industry - Willie Malcolm
Legends - April 2021
From cleaning fizzy drink delivery trucks as a kid to meticulously repairing crashed Kenworth cabs, restoring the old and modifying the new as an adult, Willie Malcolm's attention to detail and buzz about the industry has not only brought him a truck load of ardent admiration from his peers but his enthusiasm has been passed on to future generations to come - that's why he's a Southpac Legend.
Although Willie was born in Rotorua, his parents hailed from Sterling in Scotland. His father took up a role as a branch manager of a soft drink company that produced brands such as Schweppes and Coke, and that's where Willie's love of trucks began. He says, "As kids we went to work with D... ...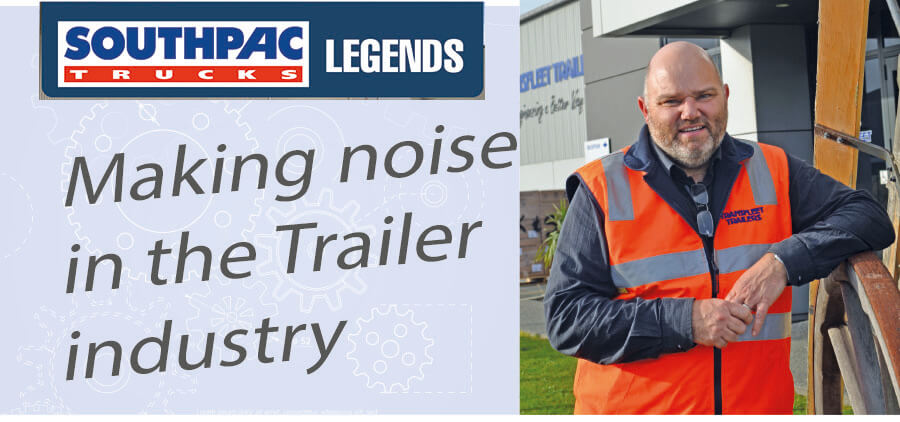 Making noise in the Trailer industry
Legends - July 2021
With his father Dave heavily involved in trailer building since the 1960's and growing up immersed in and around the industry, it could be said that Transfleet's Chief Executive Officer Matthew Gillies was destined to be in trailers - but it's his dedication to his team, his industry influence and his big voice on the TTMF that makes him a Southpac Legend.
"I'm second generation, born into the industry so to speak. My father was involved in the 60s and 70s with Domett Fruehauf and helped set up the branch in Mt Maunganui, that's where I was born."
Gillies says that the family relocated back to Auckland and his father became a shareholder with Gary Domett in Domett/Fruehauf... ...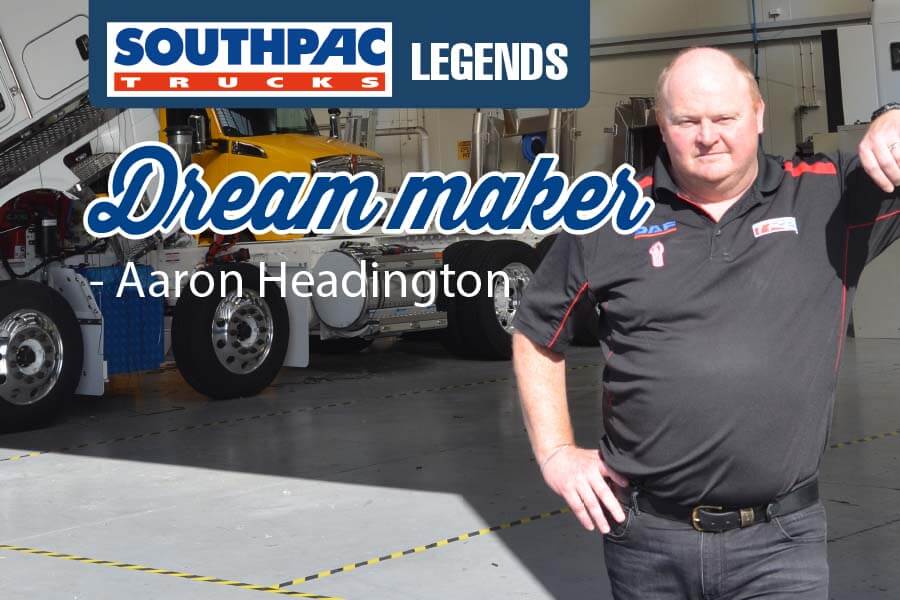 Dream Makers
Legends - June 2021
With a career that's (so far) spanned three decades, Aaron Headington has moved from being a hands-on engineer to creating a specialised division of Southpac Trucks that could be best described as 'bringing customers dreams to life'. He's got an eye for detail and a passion for detailing and it's for this reason he's a Southpac Truck Legend.
Born in Auckland but travelled extensively due to his father being in the Army, Aaron left school looking for an apprenticeship in cars but to no avail.
"To be honest, I wasn't into trucks, for as long as I can remember I wanted to be a car mechanic. I couldn't get a car apprenticeship anywhere, so off a whim, I called in here [when it... ...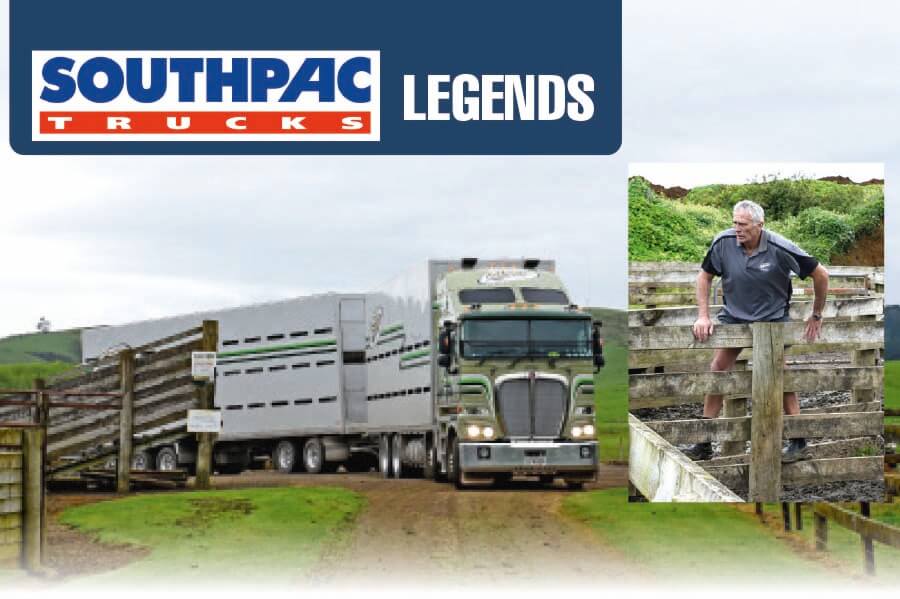 A lifetime in livestock - Don Wilson - On Road Transport
Legends - May 2021
What with increased compliance demands, driver shortages and angry bulls, the livestock industry is hard enough at the best of times, however, not only does ORT's director Don Wilson run a successful livestock transport business in Pukekohe but for the past eight years he's also worked tirelessly behind the scenes at the NRC, assisting other operators and paving the way for a better industry - and that's why Don Wilson is a Southpac Legend.
According to Don, had things turned out differently he'd have been a diesel mechanic but the long and short of it 'trucking is in his blood'. His father had a carriers business (general and livestock) and he says "that's just the way it is."&... ...
NZ Truck & Driver Magazine
Read Now